Trying to eat more raw food is so overwhelming to me. I read so many blogs and I see so many different recipes I want to try...I could literally spend hours online reading and reading about raw food. But spending hours on the internet probably is not a good idea for me or my family:), so I came up with a plan. My new goal is to try out two new raw recipes a week...one snack or treatie type and one side dish or entree. That way instead of feeling so overwhelmed I can just pick two at the start of the week and feel good about actually trying some new recipes.
So this week I decided to make a raw tomato sauce for spaghetti and meatballs. I am not quite ready to go completely raw for dinner and make
zucchini noodles with nutballs
...maybe next time. I also attempted...for the second time...to make sweet potato chips.
Raw tomato sauce:
This actually turned out pretty tasty. I don't usually care for the taste of raw tomatoes, but mixed with the other ingredients it was good. My husband said it tasted like brushetta on noodles:) I found the recipe at
about.com
I did not have fresh basil so just used a little dried basil...I can imagine it would be even better with the fresh. Before adding the tomato sauce, I also tossed the noodles very lightly with pesto sauce. All in all, we liked it...the nutbars did not complain at all:) I think I will continue to make this one whenever we have spaghetti.
Sweet potato chips:
I have tried this one in the past and did not have much luck...it seems as though I did not have any luck again. I think the main problem is I can't slice them paper thin. I tried slicing by hand the first time, but they turned out too thick. This time I used my food processor, but that still couldn't get them paper thin. They just turned out chewy instead of crispy and I dehydrated them practically all day. I was so bummed because I thought if I get this one down...it would be a great snack choice for us and could possibly even replace regular tortilla chips. I followed the recipe on
The Sunny Raw Kitchen blog
but obviously mine do NOT look like hers (and I highly doubt they taste like hers either)...see for yourself...
...hers...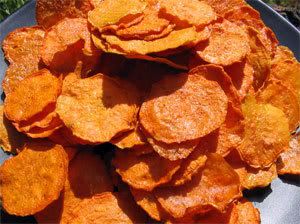 which would you rather eat?